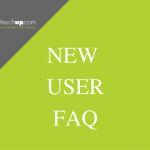 Hi! Welcome to RetouchUp! We are so excited to be your new partner for all your retouching needs. We've listed our top FAQ's from New Clients below to help assist you with any questions you might have.

 I have to be a Professional Photographer?
Yes. RetouchUp is a business-to-business retouching service, offering wholesale accounts to professional photographers, as well as a select few in the design and marketing industries. We choose only to work with Professional Photographers for many reasons – the knowledge of what is and what isn't possible in Photoshop and Lightroom, the quantity and quality of photographs sent to us, and the professional partnership that we can share with qualified individuals such as yourself!
I'm experiencing difficulty signing up.
To get started at RetouchUp you will need to create a free account with us. Our system is not able to process orders that are sent via email.
To set up your free account please click on the green Sign Up link in the upper right side of the screen. You will be asked to enter your email and create a username and password.
You will also need to enter your business credentials:
Company Name

Main Contact Name

Mailing Address

URL Address  

*If you do not have a URL address please contact Customer Service at 888-700-3686 for help. Please do not enter in a generic URL i.e. google.com, amazon.com, aol.com etc. Accounts are subject to cancellation if we can not verify you are a Professional Photographer.*
If you are experiencing difficulty signing up due to zip code, country info or other questions please click here for more sign up troubleshooting! >> https://www.retouchup.com/blog.php?p=553
What file formats do you accept?
We accept RAW and JPG files for our Color Correction services. Supported RAW Formats: .nef, .cr2, .dng, .orf, .raf, .pef, .arw, .srf, .sr2, .nrw, .ptx, .raw, .rw2, .rw1, .srw
We accept JPEG, TIF, and PNG files for any retouching service or clipping path service.
Files size limit is 50MB. We do not accept larger image sizes for order via Dropbox, Wetransfer or Email.
What is the turnaround policy?
Average turnaround time fluctuates throughout the year. Our goal is to have a 24 hour maximum turnaround time. This can be impacted by holidays and our reduced weekend schedule.
We do not guarantee 24 hour turnaround time at any time due to many factors which may include reworks/revisions, order size, level of difficulty, corrupt file, additional information needed, price change request, or artist availability.
If you are under a tight deadline please email us at customerservice@retouchup.com or give us a call at 888-700-3686 and we'll attempt to expedite your order.
I don't see the edit I need listed under any retouch level?
We try to list the most common edit requests under the appropriate retouch level needed. Please note that Complete Retouch level ONLY covers what is listed and nothing more. If you are unsure if you should choose Complete Plus or Special Service please call or email customerservice@retouchup.com.
What services are covered under your Standard Color Correction service?
The $0.29 standard correction includes the following corrections:
White balance ( color adjustment ), exposure adjustment, contrast adjustment, global color vibrance if needed, as well as adjustment for consistency.
Color Correction accepts JPEG files, or any of the following RAW formats:
.nef, .cr2, .dng, .orf, .raf, .pef, .arw, .srf, .sr2, .nrw, .ptx, .raw, .rw2, .rw1, .srw
Color Corrected images are returned in JPG format or you can choose that they are returned as XMP format.
Can I have my color correction and retouching done at the same time? 
Our Color Correction team and Retouching team are two different groups which at this time requires a 2-step process.
We have also found that some photographers want to send in a higher volume of images from a session for color correction and show those images to their clients as proofs and then send specific images for further retouching after clients have made their image choices.
Do I have to put in instructions? Why can't I just say "Do your best."?
We serve photographers from every end of the spectrum. What one photographer would find to be fantastic retouching, another would be irate over. One photographer might assume it would be obvious to soften the skin, while the other would be upset that we had done something we weren't asked to do.
Because of this, we can't let our artists do what they feel is obvious.
The retouching categories give you an idea of what would be included for that price level, but without being instructed to do so, we can't do all of those services to every image, it would upset more clients than it would please.
For this reason, we require our clients to tell us what they want done, it's the only way to serve such a wide spectrum of clients with different tastes, retouching preferences, styles of photography and clientele.
How do I send reference photos for head swaps or to use as a guide?
Please upload any reference photos along with your order images. These can include images for head swaps, eyeglass glare removal, adding people, composites, background changes, and more.
Underneath your upload files you will see both "Retouch" or "Reference" options. Please select "Retouch" if you would like the photo worked on. Please select "Reference" if it is a reference file.
Artists do not have stock photos on demand. If you need a background change or anything else please supply a high res file of what you would like used.
What is your price change policy?
First, please review our brief video "Our Simple Pricing". This will explain a lot about our pricing system.
**Please note that Complete Retouch ONLY covers what is listed. Any edit that is asked for beyond the Complete Retouch level would be covered under the Complete Plus or Special Service level.**
When an order is placed we trust that the client has taken time to read what each retouch level covers and selects the correct level based on the edits being asked for. Our artists have the ability to adjust retouch levels if needed based on the instructions given by the client.
If the correct level is not chosen, our artists will put in for a price change so that they can take care of the order in a timely manner. The price change request goes to a manager that looks over the images and the instructions to approve the correct level.
For large orders, the artist will alert customer service who will reach out by phone, email or both to confirm the price change with the client before work can continue.
Some clients will send in test orders before placing large orders. If the test order is submitted under the incorrect retouch level and the artist has not submitted the order for a price change, this does not automatically qualify the large order can be done under the lower level. We will honor any order's retouch level if a price change has not been submitted but reserve the right to charge to correct retouch level on any future orders.
If a client ever feels that their order was not charged correctly based on the edits requested we ask that you contact customerservice@retouchup.com so we can review the order.
What is your 100% Guarantee?
We guarantee our work 100%. If you are not satisfied with the work we performed please return it as a rework and tell us why you did not like it and what we could do differently. We can reassign the order to a new artist if you do not believe the first artist can fulfill your request. Retouching is subjective so we ask that you allow us the opportunity to make it right. If we cannot complete a satisfactory retouch after our best efforts we will gladly remove any charges that you have incurred. (please notify us within 45 days of order completion). We value our clients and work very hard to improve our business every way we can. If you have been a long time customer we are sure you have seen that we are committed 100% to our clients and their needs. For us, we value and honor relationships over the bottom dollar. (Please perform within 6 months of order completion date)
Do you accept photo restorations on this site?
YES we can accept restorations through Retouchup.com. See the service level Restorations at the bottom of the page. This price is a fixed price and covers any degree of damage.
Where can I call for customer service?
Customer service is available M-F, 8am-5pm Mountain Time. Call (888) 700-3686 or email customerservice@retouchup.com.