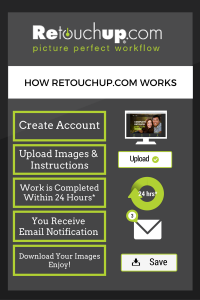 After sign up you will now be able to log into your RetouchUp.com user account and submit your first order.
On your dashboard you will be able to see an overview of your account – the Upload Order option is located in 3 areas for your convenience. There is a large green "Upload New Order" button on the main screen. You will also be able to select it on the top tool bar and left hand dash bar under "My Orders" – any of these options will deliver you to the Upload Order Screen.
Upload Order
---
Add your files to the upload queue and click start upload.
Maximum filesize supported: 50 MB
We accept the following file formats for ALL work we do: JPEG, PNG, TIFF
We accept the following raw file formats ONLY for color correction: NEF, CR2, DNG, ORF, RAF, PEF, ARW, SRF, SR2, NRW, PTX, RAW, RW2, RW1, SRW
Our default upload option is "Easy Uploader" and is the simplest way to upload your images to us. You may also select "Java Uploader" or "Import Completed Order"
As your images upload to our server a thumbnail will appear under "Images Uploaded"
Click "REFERENCE" to change from a retouch to a reference image. This marks any reference images as such for the artist to know what is the main image and what is the reference file as well as our system to not charge automatically for a reference file. 
If you do not see a thumbnail of your images that means that our server hasn't received your image and you will need to upload it again. Sometimes there is an error in the image file that the server will not recognize the image and not upload. Please see "Show Upload Results Log" to see what the error is and correct your file and try again. You are welcome to contact Customer Service for additional support at customerservice@retouchup.com.
Choose "add instructions and confirm order" to continuing the ordering process. 
On the next screen you will be able to
Choose Services
---
Please select the retouch level which corresponds with the edits you wish to be performed. We ask that you not mix Complete, Complete Plus and Special Services photos in the same order to ensure that everything is retouched and billed correctly. We charge PER IMAGE, not per head.
NOTE: We will adjust the retouch level as necessary if the instructions you provide are different than the level chosen.
Click here to see all of our services and what they cover and pricing! 
https://www.retouchup.com/photogallery.php
Order Details and Confirmation
After you select the service that you are looking for you will now be able to name your order, add instructions and submit!
If you have default instructions already saved to your account you can either add to them or delete them and write new instructions as necessary. Here you will also be able to add a RUSH to your order and select a Favorite Artist if you desire.
Order Tip: Writing your instructions in list type format is extremely helpful for the artist to understand your needs. Instructions that are heavy on words, and in paragraph form sometimes either don't translate well or are unclear in what the real retouching need is.
For example:
"I took these photos the other day and I don't know what happened with the sun causing so much shadow!!!! Please make sure to remove any sun spots. Ack! I can't believe there are so many!! Please straighten the little boy's tie in the front of the wedding party. Monica one of the bridesmaids didn't like how she looked overweight that day so please fix her up. Please also use the reference file to swap Emily's head so that she is not squinting. THANKS SO MUCH!!!! Oh and can you remove the bobby pins that are sticking up from Whitney's hair!" 
Preferred Instructions:
Remove all sun spots
Straighten little boy's tie in front
Slim woman on photo left in purple dress
Use Reference file 323.jpg to swap woman's head on photo right in yellow dress
Remove bobby pins in hair of the bride
After you have filled out your instructions you are ready to submit order!
Important! If you have written up your instructions and then need to go back to a previous screen – such as adding more images to your order or changing an image to a reference file – please copy your instructions to your clipboard before going back as they will be deleted.
If you have any other questions about the Upload Order process please feel free to email us at customerservice@retouchup.com or call us at 888-700-3686. Thank you!