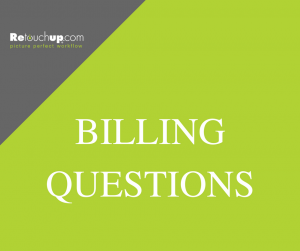 Please note that: All charges on the cardholder monthly statement will be from "Hollywood Fotofix Retouchup Co".  Hollywood Fotofix is our parent company.
Billing FAQ:
Q. Is there a monthly fee? 
A. No, there is no monthly fee or contract to sign to use RetouchUp.com. We only charge for orders that you have submitted. If you do not use us within a given month your card on file is not charged.
Q. Why do I have to keep a credit card on file. 
A. We direct bill once a month, on the first business day of the month for the previous month's balance. For billing convenience we require a credit card to be kept on file. This system allows you to review all orders and request any reworks if needed during the billing month before your card is charged.
Q. I'm concerned with leaving my credit card on file for security reasons. 
A. We understand that our clients want to make sure that their personal information, especially financial information, is safe and secure when providing it online. RetouchUp.com has taken many steps to insure that your credit card information is protected by using Authorize.net and complying with outside security audits. Please click here for more detail on how your Payment Information is secure at Retouchup.com.
Q. What is your price change policy?
We will adjust the retouch level as necessary if the instructions you provide are different than the level chosen.
First, please review our brief video "Our Simple Pricing". This will explain a lot about our pricing system.
**Please note that Complete Retouch ONLY covers what is listed. Any edit that is asked for beyond the Complete Retouch level would be covered under the Complete Plus or Special Service level.**
When an order is placed we trust that the client has taken time to read what each retouch level covers and selects the correct level based on the edits being asked for. Our artists have the ability to adjust retouch levels if needed based on the instructions given by the client.
If the correct level is not chosen, our artists will put in for a price change so that they can take care of the order in a timely manner. The price change request goes to a manager that looks over the images and the instructions to approve the correct level.
For large orders, the artist will alert customer service who will reach out by phone, email or both to confirm the price change with the client before work can continue.
Some clients will send in test orders before placing large orders. If the test order is submitted under the incorrect retouch level and the artist has not submitted the order for a price change, this does not automatically qualify the large order can be done under the lower level. We will honor any order's retouch level if a price change has not been submitted but reserve the right to charge to correct retouch level on any future orders.
If a client ever feels that their order was not charged correctly based on the edits requested we ask that you contact customerservice@retouchup.com so we can review the order.