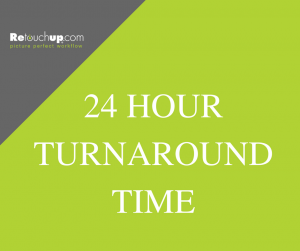 Average turnaround time fluctuates throughout the year. Our goal is to have a 24 hour maximum turnaround time. This can be impacted by holidays and our reduced weekend schedule.
We do offer a RUSH service with a goal of maximum turnaround time being 12 hours or less. You made add this option on the last screen where you name your order and instructions. Our RUSH service fee is 50% of the order total.
We do not guarantee 24 hour turnaround time at any time due to many factors which may include reworks/revisions, order size, level of difficulty, corrupt file, additional information needed, price change request, or artist availability.
If you are under a tight deadline please email us at customerservice@retouchup.com or give us a call at 888-700-3686 and we'll attempt to expedite your order.